The new model WL-500 is an smart easy to install device. It has four parts:
1-Floating Switch
2- Weight Element
3- Security Lock
4- Connection Cables
(WL-500 comes with 2 mts - other measures available)
The installation must be performed by qualified professional
It is advised that this switch commands the contactor coil less than 50 Volts, for a total security
First make a little hole in the tank tap just to let the cable go through. Preferently make the perforation in the opossite side of water pouring.(see diagrams below)
Setting the Level of Filling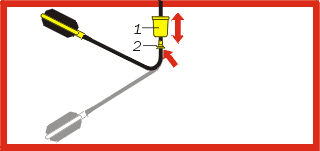 slide the Weight Part(1) through the cable to set the mayor or minor water level. Then lock the Weight Part using the security lock part (2)
Consideraciones
The installation should be performed by an eletrician
It's safer if this device commands a contator before connecting to the motor
Also very usefull for high density liquids as black waters
Avoid adding extentions to the original cable or making holes in the floating switch. It might cause electrical shock because of exposed wires. We can supply the devices with different larges to fit your needs!